"I am a GODDESS": filming of a comedy with SASHA BORTICH has begun in St. Petersburg
23 august 2022
Filming of the comedy "I am a Goddess" has begun in St. Petersburg, a joint project of the LOOKFILM film company, the Yellow, Black and White studio and the START online cinema. The distributor of the film is the Central Partnership Film Company.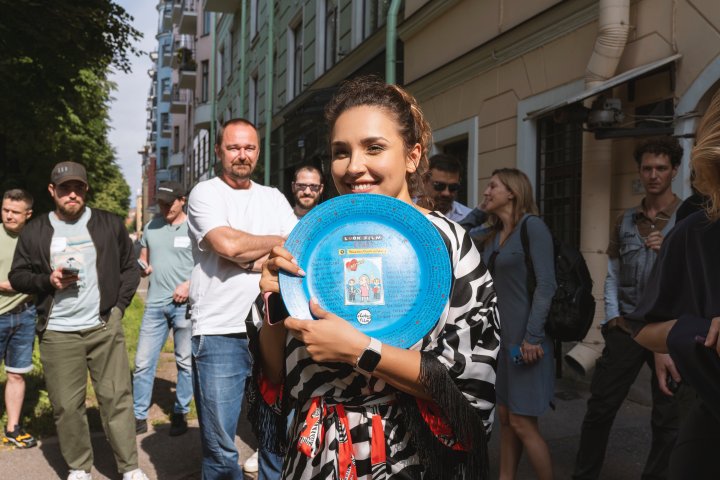 In order to find happiness, Lena (Sasha Bortich), a schoolteacher, decides to go beyond the limits with which she limited herself. What previously seemed to be a disadvantage — naivety, sincerity, absurdity — turns out to be her charm, attracting non-standard people to her.
The film will be the directorial debut in the feature film of actress Olga Dibtseva ("Unreality", "Serf", "Humorist"). The main role will be played by Sasha Bortich ("The Lackey", "I'm losing weight"). Her partners on the site will be: Anton Vasiliev ("Crystal", "Germans"), Anton Filipenko ("Let's get divorced", "Anna Nikolaevna Project"), Evgenia Kalinets ("Ordinary Woman", "Garden Ring") and others.
Olga Dibtseva, director, screenwriter: "When I studied at the Moscow Film School on the director's course with Boris Khlebnikov and Alexey Popogrebsky, we had a documentary film course. And I was making a film about a totalitarian women's training. I have always been interested in the topic of self-improvement: personal growth trainings, work with a psychologist, and so on. And I found out that there is such a "coach" who teaches women to be a superwoman and use men. To do this, a woman should stop being afraid of men and become a rabid jerk and a crazy pick–up girl - do everything that will discourage a man and knock him out of a rut. To shoot this "dock", I myself went to these trainings, met girls there and shot a movie in parallel. And at some point I realized that I wanted to make a feature film – about a girl who is so looking for her happiness. My classmate Alexander Sobichevsky and I started developing this story, we wrote the script for almost three years, and in the end we got a funny, touching, a little sad, romantic story about a girl after a divorce. Starring Sasha Bortich, an absolute star! I have been looking for an actress for a very long time, and, I confess, Sasha did not occur to me. But when she came to the audition, she just lit up our casting with her light. We all started laughing and crying when she played the scene, and realized that this is our heroine. I myself play one of the main roles in this film – the girlfriend of the main character, who just brings her to the training "I am a goddess". Of course, it was a little scary for me to agree. But my co-author Sasha Sobichevsky and our producer Boris Khlebnikov convinced me that this is absolutely my role, and that I will be able to shoot and act. It's hard, but it's an experience I couldn't even dream of. I am insanely grateful to all the producers, and especially to my master and beloved director Boris Khlebnikov, that they believe and help, I hope I will not let you down and make a cool movie. And we shoot in St. Petersburg and wrote about this city. I was born and raised here, I know everything about St. Petersburg and I want to confess my love to this city and tell about it in a way that no one has ever done before."
Boris Khlebnikov, producer: "Olga Dibtseva is my student, and during her studies she shot four works, and they were all comedies. The ability to comedy is generally a unique thing, and Olya has discovered his own comedic look. She feels comedy and makes it surprisingly accurately recognizable. And in this sense, I really liked the script of her debut full meter, and we began to develop it. "I am a Goddess" is a romantic comedy, a fairy tale in many ways, but this fabulous romcom is filled with recognizable documentary things."
Alexander Plotnikov, producer: "A fairy tale can also be recognizable. Here there is an idea of how a person begins to look for himself, but in a completely opposite direction from himself. It starts to get confused and do stupid things. In fact, you don't need to change your life, but try to find yourself, then life will change. This is a good message that we really liked. Well, fabulousness is also cool."
Irina Sosnova, producer: "We have been preparing this project for almost three years, but it seems to me that now it is more relevant than ever. This is a story about a young woman who lives, driven into the framework and rules imposed by society, parents, her own experience, in general, lives without regaining consciousness. And at the moment when her whole habitual life collapses, she finally begins to live freely and relate to her true desires, regardless of the opinions of others. It seems to me that this story can help many to look at their lives differently. At the same time, there is no edification and condescending attitude towards our heroes in our cinema, but there is a lot of paradoxical humor and hope."