BELIEVE IN THE DREAM
12 september 2022
KION online cinema together with LOOKFILM company announces the start of filming of the original series "Americans". The script was written by the popular playwright and director Vasily Sigarev ("Country 03", "Top", "Live"), the director was Fedor Stukov ("Physical education Teacher", "Tall"). Starring Anastasia Popova, Anna Kotova-Deryabina, Lina Mirimskaya, Maria Osipova.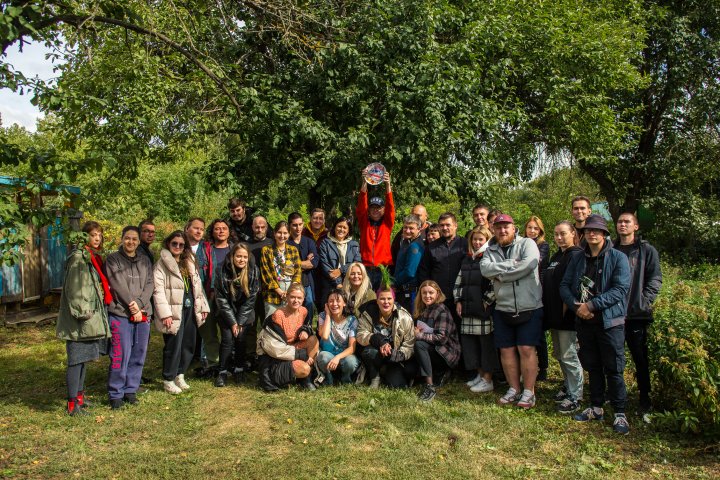 The series will be shown exclusively in the online cinema KION in 2023.
The action of "Americans" takes place in 2009 in the small Russian village of Livni. The main character, a lively and purposeful Zinaida, walks around the apartments, does not sell cosmetics very successfully, and during one of these visits she learns that there is a way to change her life. If you give birth to a child in the United States, he will become an American who will be able to transport all relatives abroad. Zinaida decides to act without delay and encourages her friends, workers of the local poultry farm, to get pregnant urgently and fly to the States. But the husbands are against it. Realizing that there is nowhere to wait for help, friends are looking for additional earnings, not always legitimate. But that's half the battle. The most important thing is to find a way to get pregnant. On the way to the goal, Zina (Anastasia Popova), Gela (Anna Kotova-Deryabina), Tatiana (Lina Mirimskaya) and Kira (Maria Osipova) will face many difficulties and doubts: are they doing the right thing by wanting to leave their home.
Igor Mishin, CEO of MTS Media/KION, producer: "It took me one hour after reading the first episodes to understand that Vasily Sigarev sent a potential national hit! There are very few such stories - self-mocking, clever, humorous and bright folk characters. And to shoot such a series is a great joy and luck for us."
Alexander Plotnikov, producer, LOOKFILM company: "The Americans" is an ironic, elegant and awesome comedy story about our ruthless belief that "it's good where we are not." And this belief in beauty is not affected by the fact that expectations rarely coincide with reality. It seems to me that people and our life are shown here in a bright, original and very recognizable way."
Anna Kotova-Deryabina, actress: "For me, The Americans is a story about the Hollywood dream. When I read the script, I was curious to observe what people who really decided to go to the fulfillment of this dream face, to observe their metamorphoses and changes along the way. And most importantly, I was interested in understanding how much this dream is worth the candle, whether this or that person really needs it, the American dream is a myth that is absolutely not viable. The team in the series gathered great. I've already worked with some actors on other projects, it's always nice and convenient."
Fyodor Stukov, director: "This is about a dream, about the hope for a better life, which burns the main characters, ordinary women, whose images are written by Vasily Sigarev voluminously and recognizably. For me, as a director, it is a great joy to work with an ensemble of beautiful actresses who will embody these images – Anastasia Popova, Anna Kotova-Deryabina, Lina Mirimskaya. In the series, we will return the viewer to zero and tell about the times when big changes seemed real soon, but we will try not to work with broad strokes, but focus on the personal stories and motives of each character in order to make the story close to the widest possible audience."
Natasha Isakova, Creative director of KION online cinema: "This story is filled with bright nostalgia for the era of adventurous adventures without borders. Here you can catch the signature intonation of the provincial absurdity of Vasily Sigarev, and greetings from Soviet comedies in the spirit of "Love and Doves". The audience is waiting for entertainment and the opportunity to return to the past, when the world was different."