Filming of Boris KHLEBNIKOV's comedy series "Third in Bed" has ended
22 december 2022
"Third in bed"
is an action–packed comedy about love. Lyuba and Roma are tired of their long marriage, but their daughter and son-in-law decide to help their relatives keep the family together and give a tour to Turkey. Parents agree only in order not to upset their daughter. Even on the plane, they quarrel violently, and at dinner Lyuba starts flirting with a handsome Turk, drinks too much, and in the morning finds a corpse in her bed ... This is how this unusual story begins, in which there is a place for dangerous and fun adventures, blackmail, exploits for the sake of loved ones and a new breath in relationships.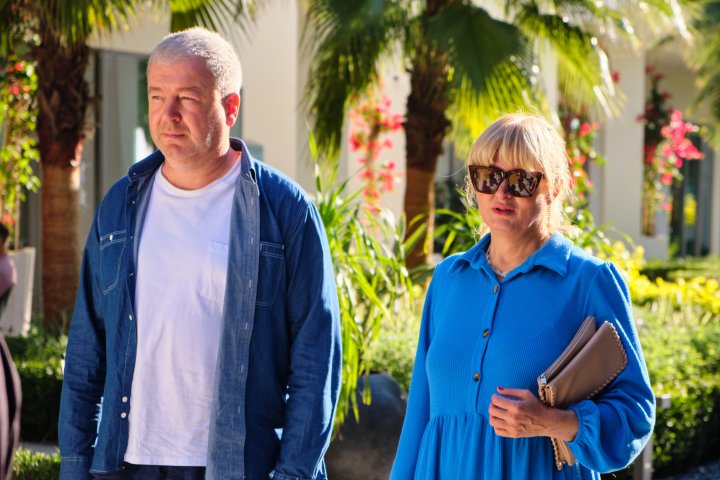 Starring
Anna Mikhalkova, Lyubov Aksenova, Alexander Robak, Stepan Devonin.
Boris Khlebnikov, director:
"I have always been annoyed by the genocide of adult heroes in movies, and I always wanted to make a story not about teenagers, but about the love of people who have lived for many years in marriage. The children have grown up, they go on a trip, and actually get to know each other anew. I don't know, to be honest, how many times Anna Mikhalkova and Alexander Robak have played spouses, and this is irrelevant. They are the leaders of their generation – outstanding artists. At the first reading of the script, Anya and Sasha did it great, charming and funny. Their characters are recognizable, very understandable. These are people not from nowhere, but whom you know, you have done so many times yourself."
Alexander Robak, actor:
"Director – Khlebnikov, creative producer – Meshchaninova; partners – Mikhalkova, Devonin, Aksenova, genre – black comedy, and filming in Turkey. From the above, I realized that I hit the jackpot and didn't think for a second."
Alexander Plotnikov, producer:
"This is a funny story about overcoming difficult periods in a relationship. To refresh feelings and understand how much they mean to each other, our heroes are unexpectedly helped by the investigation of a crime. And–quite a bit–sea air."