Filming of the mystical thriller Okko "Hypnosis" with Daniil Strakhov and Kirill Kyaro has started
17 november 2023
The production center Originals Production and the film companies "LOOKFILM" and "Place of Power" have started filming a mystical thriller for Okko "Hypnosis".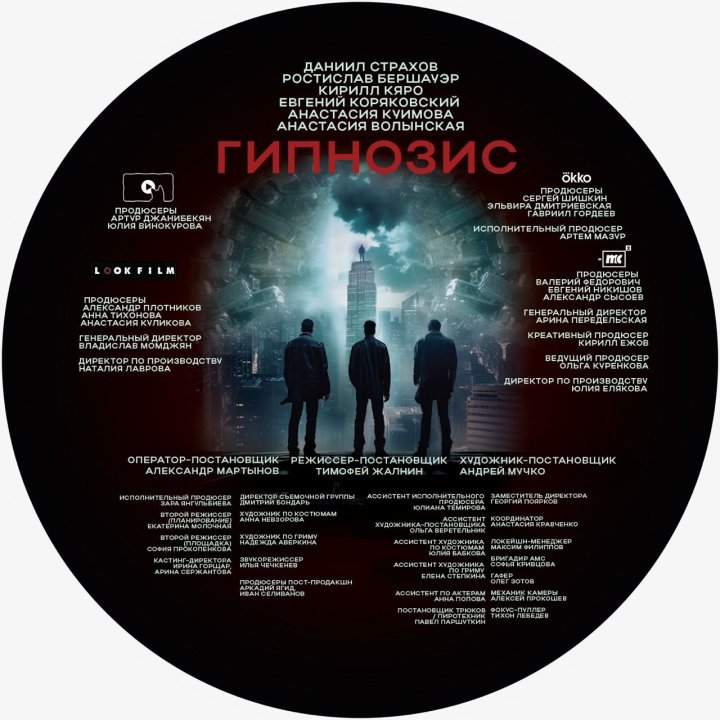 The original eight-part series will tell the story of three friends: a private detective with the ability to read minds, a lawyer with the gift of seeing the future of a person and a priest with the gift of seeing the past. All of them, thanks to their abilities, have settled down quite well in life. But at some point, someone appears on the horizon who wants to take revenge on our heroes for what they did in the distant past.
The director of the mystical thriller will be Timofey Zhalnin, the director of photography - Alexander Martynov, producers – Evgeny Nikishov, Valery Fedorovich, Sergey Shishkin, Elvira Dmitrievskaya, Gabriel Gordeev, Alexander Plotnikov and Alexander Sysoev.
The main roles in the project will be played by Daniil Strakhov, Rostislav Bershauer, Kirill Kyaro, Evgeny Koryakovsky, Anastasia Kuimova and Anastasia Volynskaya. Vera Sapunova, Anna Livanova, Ilya Obolonkov, Igor Klimov, Nikita Smolyaninov, Alexey Fateev, Nikolai Klyamchuk, Vitaly Daushev, Marietta Volkova, Denis Batalenko, Illarion Marov, Alexey Sakharov, Arina Makunina, Natalia Batrak, Nikolai Kozak, Ekaterina Zhuravleva, Tatiana Zhuravleva and Victoria Bessonova will also take part in the project.
Filming of the series "Hypnosis" will take place until the end of January 2024. The premiere in Okko is scheduled for next year.